Features
Adopt an animal!
Locate Us
Read Our Reviews
Follow Us
---
Home | Animals | Mammals | Ungulates | African Warthog
                        African Warthog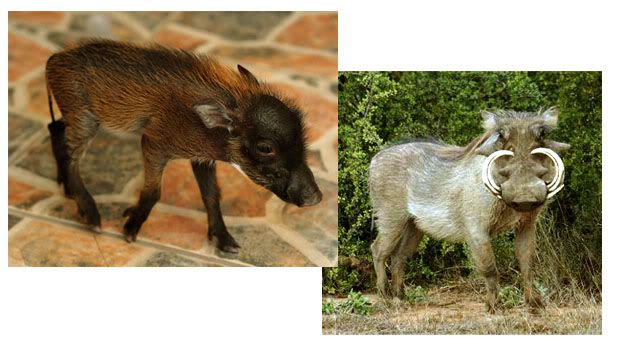 Description
Warthogs range in size from 0.91 to 1.5 meters (3.0 to 4.9 ft) in length and 50 to 150 kg (110 to 330 lb) in weight. A warthog is identifiable by the two pairs of tusks protruding from the mouth, which are used as weapons against predators. Warthogs are fast runners and quite capable jumpers. They will often run with their tails in the air. Despite poor eyesight, warthogs have a good sense of smell, which they use for locating food, detecting predators and recognizing other animals. The main warthog predators are humans, lions, leopards, crocodiles, and hyenas. Cheetahs are also capable of catching small warthogs. However, if a female warthog has any piglets to defend she will defend them very aggressively. Warthogs can inflict severe wounds on lions, sometimes ending with the lions bleeding to death.

Habitat
Although warthogs are commonly seen in open grasslands, they will seek shelter and forage in dense vegetation. In fact, warthogs prefer to forage in dense, moist areas when available.

Defense

The upper canine teeth can grow to 23 cm (9.1 in), and are of a squashed circle shape in cross section, almost rectangular, being about 4.5 cm (1.8 in) deep and 2.5 cm (0.98 in) wide. The tusk will curve 90 degrees or more from the root,[citation needed] and the tusk will not lie flat on a table, as it curves somewhat backwards as it grows. The tusks are used for digging, for combat with other hogs, and in defense against predators—the lower set can inflict severe wounds. Although capable of fighting, with males aggressively fighting each other during mating season, a primary defense is to flee by means of fast sprinting

Range
Africa

Fun Facts!
- Wild warthogs can live up to 15 years, and captive warthogs may live as long as 18 years.
- Warthogs have been observed allowing banded mongooses to groom them to remove ticks
- You can identify the sex of a warthog simply by seeing its face. Boars have two pairs of "warts", while sows have a single pair.
- Their distinctive mannerism of running with their tails held erect is thought to be a way of maintaining contact.


---